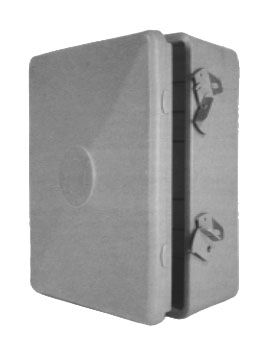 CottBox® Cathodic Protection Electrical Equpment Enclosure
The CottBox® electrical enclosure is an extremely rugged, non-conductive and maintenance free housing designed to protect sensitive cathodic protection circuits from the hostile environment in which such circuits must function. Made by Cott Manufacturing Company in Los Angeles, CA and readily available from distributors, the CottBox® is a:
Deep well anode box
Anode Lead Bond Box
Circuit Bond Box
Calibrated Shunt Box
Variable Resistance Housing
Cable Splice Box
Very Large Capacity CP Test Station
Negative Splice Box
Features
Two times the impact strength of aluminum.
One-half the weight of aluminum.
Will not rust, corrode, shock, shatter peel or absorb water.
Has dimensional and electrical stability over a 300 degree F. range (-100 degrees F to +200 degrees F.)
Stable under ultraviolet attack. NO skin irritating fiberglass to leach to the surface.
Maintenance free - no painting.
Non-metallic, drastically reduces shock hazard.
Available in your choice of colors - black, blue, red, orange, yellow, green, and white - other colors available at no additional charge.
Corporate names, logos or box description can be molded directly into box covers.
Outstanding chemical resistance.
Designed to meet NEMA enclosure standards.
Circuit Boards - clear Lexan®, all leads visible for inspection without removing board.
Hardware and Accessories - nickel plated brass, standard - H2S resistant COTTDip(tm) or stainless steel available on request.
Versatile - boxes available with all circuits (resistors, shunts, buss bars, connectors, meters, breakers, etc.) installed and tested to your specifications or empty for field installation or circuits.